By David Truman
A friend of mine in Brisbane told me yesterday:
"I walked through Speakers Corner [next to Queensland Parliament House] and came across uni students handing out communist newspapers and promoting a book called Introducing Marxism. I was horrified. I asked a few of their young people why they believed what they were doing was a good thing? They couldn't explain.
I explained to them that they are the destroyers of our nation. That their parents worked hard to send them to uni and this is how they repay the privilege…
Shame on them."
It is consternating and frankly infuriating to see the Marxist delusions entertained by many young people. They are generally illiterate about history – a combination of ignorant, stupid and evil.
The history of Russia demonstrates a failure there of Marxism-Leninism both morally and economically. In 1917, Russia rushed up a ramp with Wrong WAY – Go Back written on it. Huge numbers of Russians today understand that, and Russia has turned 180 degrees from all that.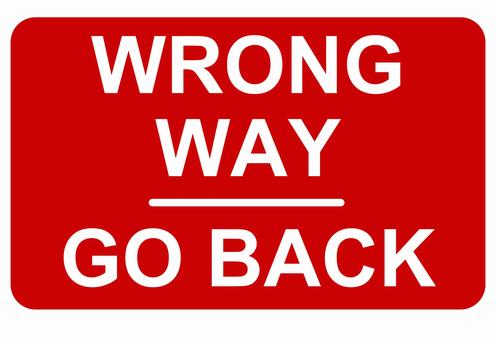 A century ago, the Bolsheviks were sure they were creating a utopian new world, but many of them had no idea of what they were doing. This ecstatic optimism about the glorious future to be built was captured in this 1921 painting by the Russian artist Konstantin Yuon, New Planet.
The brashest and loudest poet of the revolution, the Futurist Vladimir Mayakovsky, wrote effusive doggerel including a piece called My Soviet Passport (1929) which ends:
I'd chuck
without mercy
every red-taped paper,
But this …
I pull out
of my wide trouser-pockets
duplicate
of a priceless cargo.


You now:
read this
and envy,
I'm a citizen
of the Soviet Socialist Union!
GUESS WHAT.
He committed suicide the next year.
The reality was that over the two decades after the Revolution, the Bolshevik Old Guard was destroyed. Politburo members and candidate members were purged, and an overwhelming majority of the members and candidates of the Party Central Committee disappeared. The senior military officer corps was decimated. All areas of the state apparatus were affected by widespread arrests and disappearances. Denunciations and terror were everywhere. Millions were labelled traitors, terrorists, enemies of the people. Old Bolsheviks had been 80% of the 17th Party Congress in 1934, but were only 20% at the 18th Congress in 1939. Lenin's entire Politburo was wiped out apart from Stalin himself.
Arthur Koestler's superb short novel Darkness at Noon(1940) describes what happens to an Old Bolshevik, Rubashov, when he is arrested during Stalin's Great Purges, is forced to confess anti-Soviet subversion (a lie) and is eventually shot.  Theodore Dalrymple writes of the Old Bolsheviks, in an essay on the book, "All their adult lives they had believed that the end justified the means; moreover, and crucially, they had delegated to the party the exclusive right to judge both ends and means.  Who were they, then, to object when the party decided that it needed to sacrifice them, irrespective of whether they were guilty of anything?"
Some telling words from Rubashov in the book:
"All our principles were right, but our results were wrong. This is a diseased century. We diagnosed the disease and its causes with microscopic exactness, but whenever we applied the healing knife a new sore appeared. Our will was hard and pure, we should have been loved by the people. But they hate us.
[Of the Old Bolsheviks] They dreamed of power with the object of abolishing power; of ruling over the people to wean them from their habit of being ruled. All their thoughts became deeds and all their dreams were fulfilled. Where were they? Their brains, which had changed the course of the world, had each received a charge of lead. Some in the forehead, some in the back of the neck. Only two or three of them were left over, scattered throughout the world, worn out. And himself; and No. 1 [Stalin]."
Here are Rubashov's thoughts from his diary in prison, soon before he is shot:
"Looking back over his past, it seemed to him now that for forty years he had been running amuck – the RUNNING-AMUCK OF PURE REASON. Perhaps it did not suit man to be completely freed from old bonds, from the steadying brakes of 'Thou shalt not' and 'Thou mayest not', and to be allowed to tear along straight towards the goal.
"It was a mistake in the system; perhaps it lay in the precept which until now he had held to be uncontestable, in whose name he had sacrificed others and was not himself being sacrificed: in THE PRECEPT, THAT THE END JUSTIFIES THE MEANS. It was this sentence which had killed the great fraternity of the Revolution and made them all run amuck. What had he once written in his diary? 'We have thrown overboard all conventions, our sole guiding principle is that of consequent logica; WE ARE SAILING WITHOUT ETHICAL BALLAST.'"
And there are so very many examples of the communists eating their own. Like Goya's Saturn devouring his children.
Arthur Koestler and George Orwell (Homage to Catalonia) saw first-hand how the communists fighting against Franco in Spain treated their own.  Stalin murdered millions.  Later, so did Mao, and Pol Pot.  And the Kim dynasty in North Korea.  In Latin America, Che Guevara was a mass murderer.  In Venezuela closer to our present time, Chavez and Maduro in Venezuela have reduced a rich country to unprecedented poverty.  North Korea is a catastrophic basket case where people starve.  Statista reports that in 2021, South Korea's nominal gross domestic product (GDP) was around 57 times greater than that of North Korea.  While South Korea's nominal GDP has increased continuously over the past decade, North Korea's GDP growth has been minimal.  And so it goes.
(https://www.statista.com/statistics/1035390/south-korea-gdp-comparison-with-north-korea/ )
The Australian Vietnamese community, many of whose families fled Vietnam in boats to escape the communists, is strong in its denunciation of communism. This is a recent demonstration in Brisbane.
Taiwanese and other Chinese supporters of Falun Gong also very regularly hand out leaflets in central Brisbane denouncing the Chinese Communist Party for its repression of civil liberties and its vile practice of organ harvesting from people it doesn't like.
Now, back to those Marxist students
These young students here and in the UK and in many other places in the West (yes, the prosperous West for which they have no gratitude or perspective of how fortunate they are) need to read Orwell's Animal Farm (1945) and Nineteen Eighty-Four (1949). This cartoon sums the reality up.
In The Australian of 3 August 2023, Tom Switzer and Andrew Blyth write that centre-right parties are failing Gen Z and millennials. Their article is not specifically about the Marxists alone but the distressingly widespread support by young people – incited by heavily leftist teachers and university academics – of Big State, big taxing and freedom-destroying policies.
The failure of the Right – by Switzer and Blyth
… this state of affairs has evolved because of a mixture of political failures by conservative politicians. Whether it's the Republicans, Tories or Liberals, the centre-right of politics in the past decade has failed to campaign and fight on several important fronts. …
Above all, perhaps, it has failed to fight back in the culture wars that the better-organised progressive elites have been prosecuting so effectively across the Anglosphere. This process has not been helped by a succession of poor and discredited leaders of conservative governments in the West. …
All this means the generation now embracing the doctrines of the left has heard very little of the opposing arguments in the political square. They have grown up with the notion that it is the duty of the state – and not of themselves or their families – to provide for them. … Also, as a result of the cultural cringe the centre-right has taken towards the social and cultural attitudes of the left, those attitudes have started to entrench themselves in society by default.

The right has made little coherent attempt to try to argue in favour of a different culture – not one that is cruel or inhumane but one that respects the individual without seeking to coerce them into certain mindsets and fashions….
But changing minds and enthusing younger voters also require a sound strategy, great communications, courage and leadership. Sadly, on the centre-right around the Western world, those qualities are in increasingly short supply. If American Republicans, British Tories and Australian Liberals do not have a serious plan to address young people's anxieties, it is they who will be the beleaguered minority before long.
NO WONDER so many genuine conservatives in Australia have simply given up on the Liberal-Nationals because THEY DON'T GIVE CLEAR PRODUCT DIFFERENTIATION.